To perform high quality repair service at a fair and just price.
To have a sense of personal obligation to each customer.
To recommend the services, repairs and maintenance to the car owners that are necessary to maintain the vehicle in safe working order.
To use only products which are safe and provide service that equals or exceeds that recommended by the vehicle's manufacturer.
To service and repair the vehicles in a timely manner and to keep the customer informed of any and all changes including completion times.
To give the best customer service possible and, in the case of any disputes, to provide a prompt and amicable resolution.
To ensure that my entire staff conducts themselves in a professional manner and in keeping with the high standards of the automotive industry.
To notify the customer if appointments or completion promises cannot be kept.
What our clients are saying about us
We have established longterm and stable partnerships with various clients thanks to our excellence in solving their automotive needs!
More Reviews

Absolutely love Shelley's and I am a repeat and ongoing customer! I'm always looking for a place that I feel comfortable going to on my own without my fiance as I'm not mechanically savvy and this is it! Christy, who is at the front desk and keeps this place running is so warm and welcoming. She does her job well and is always moving whether it is answering phone calls or managing all the different keys and customers. She remembered me after my first visit! The mechanics here are trustworthy and do their job well. I've gotten two reasonably priced oil changes and also brought my car in for a tire repair and I'm very happy with all my interactions at Shelley's. I would suggest making an appointment or dropping off your car because this place IS BUSY. If you are doing a walk in expect to wait a couple of hours, but otherwise I will definitely be back for all my car related concerns!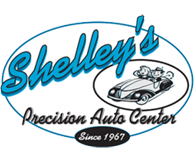 Christy, who runs the front of the shop, is the best. I needed to get my car smog checked. The problem was I had a check engine light. Shelley's did a diagnosis and was able to clear the check engine, but the codes would still not pass. We were able to assess the problem that could have been $$$ in parts and labor for a catalytic converter, but there was an alternative to flush out the codes for an indefinite amount of miles. I checked once a week before work at Shelley's to see if it my car cleared. Every time, denied. Then my check engine light went on again! Hope was lost. I gave up going to Shelley's for months. Until today. When I got in my car and was heading to work the check engine light was off. I immediately went to Shelley's. The codes were clean! We ran the smog and passed. I am legit on the road again. Thanks for your persistence with me Shelley's! I'll be a lifetime customer.