Engine maintenance is vital to keep your car or truck operating at peak performance. It also impacts the longevity of your vehicle's engine. Trust the experts at Shelley's Precision Auto Center to help you protect your investment. Call us at 805-497-2818 or visit our shop in Thousand Oaks 91360.
These are some of the engine maintenance services we offer.

Check Engine Light
No one likes to see their car's "Check Engine" light come on. The light could mean a costly problem, like a bad catalytic converter, or it could be something minor, like a loose gas cap. At Shelley's Precision Auto Center, we can pull the code and diagnose the problem for you. Give us a call at 805-497-2818 or stop by the shop for our expert assistance.
Fuel Injection
Fuel injection is a system for admitting fuel into an engine. Since 1990, fuel injectors have completely replaced carburetors as the primary means of getting gasoline into the engine. A fuel injector atomizes the fuel by forcibly pumping it through a small nozzle (under high pressure). Failure of the fuel injection system means poor performance and ultimately destroys the engine. Make sure your vehicle's fuel injection system is maintained properly. For all your fuel injection maintenance and replacement needs, call 805-497-2818 or visit Shelley's Precision Auto Center today.
Ignition
An ignition system is a system for igniting (using an electric spark) a mixture of fuel and air in a gasoline engine. A properly working ignition system means a properly starting engine and high performance from your car. For all your ignition system maintenance and replacement needs, call or visit Shelley's Precision Auto Center today.
Ignition Wires & Cables
Ignition cables also known as spark plug wires are an important part of your car's ignition system. They transfer the spark from the ignition coil to spark plugs that ignite the mixture of fuel and air. The mixture starts the engine. Over time, ignition wires and cables get weak and break down. This makes it impossible for the spark to reach the engine cylinders. This results in the engine misfiring. The car will eventually fail to start. If it does start, it will run poorly. Common symptoms of faulty ignition cables and wires are: poor gas mileage, engine misfires, engine light is on, and engine may vibrate. If your car needs new ignition cables and wires, call or visit Shelley's Precision Auto Center in Thousand Oaks, CA 91360. Here, you will have the wires and cables changed by a top-rated mechanic.
Oil, Lube, and Filter
To keep running smoothly, your car highly relies on oil, lube, and oil filters. Oil helps in lubricating, cooling, and cleaning the internal engine components. With time, motor oil becomes contaminated. Your car needs an oil, lube, and filter change every three months (or 3,000 miles). When it is time for a lube, oil, or filter change, take your vehicle to Shelley's Precision Auto Center in Thousand Oaks, CA 91360.
Spark Plugs
A spark plug delivers electric current to the combustion chamber from the ignition system. Spark plugs that haven't been changed for a long time can cause ignition problems. At Shelley's Precision Auto Center, we have automotive experts who will check and replace your spark plugs. For all your spark plug repair or replacement needs, call 805-497-2818 or visit Shelley's Precision Auto Center today.
To learn more about our Engine Maintenance services, call us at 805-497-2818 or request a quote by clicking below:
Request Quote
What our clients are saying about us
We have established longterm and stable partnerships with various clients thanks to our excellence in solving their automotive needs!
More Reviews

Absolutely love Shelley's and I am a repeat and ongoing customer! I'm always looking for a place that I feel comfortable going to on my own without my fiance as I'm not mechanically savvy and this is it! Christy, who is at the front desk and keeps this place running is so warm and welcoming. She does her job well and is always moving whether it is answering phone calls or managing all the different keys and customers. She remembered me after my first visit! The mechanics here are trustworthy and do their job well. I've gotten two reasonably priced oil changes and also brought my car in for a tire repair and I'm very happy with all my interactions at Shelley's. I would suggest making an appointment or dropping off your car because this place IS BUSY. If you are doing a walk in expect to wait a couple of hours, but otherwise I will definitely be back for all my car related concerns!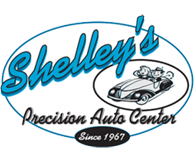 Christy, who runs the front of the shop, is the best. I needed to get my car smog checked. The problem was I had a check engine light. Shelley's did a diagnosis and was able to clear the check engine, but the codes would still not pass. We were able to assess the problem that could have been $$$ in parts and labor for a catalytic converter, but there was an alternative to flush out the codes for an indefinite amount of miles. I checked once a week before work at Shelley's to see if it my car cleared. Every time, denied. Then my check engine light went on again! Hope was lost. I gave up going to Shelley's for months. Until today. When I got in my car and was heading to work the check engine light was off. I immediately went to Shelley's. The codes were clean! We ran the smog and passed. I am legit on the road again. Thanks for your persistence with me Shelley's! I'll be a lifetime customer.