Courtesy of the Automotive Service Association
The following simple and inexpensive preventive checks will greatly extend the life of the vehicle, ensure safer operation and even benefit the environment.
Always consult your owner's manual for individual service schedules because maintenance requirements vary by manufacturer.
Always consult your owner's manual, but a good rule of thumb is to have the oil filter changed regularly - every 3,000 to 4,000 miles.
Have all fluids checked, including brake, power steering, transmission/transaxle, windshield washer solvent and antifreeze. These fluids play a large role in the safety and performance of the vehicle.
Check tire inflation. Under-inflated tires can result in a loss of fuel efficiency. This is the least expensive form of preventive and safety maintenance. Tires should be checked once a month.
Keep your engine tuned. A fouled spark plug or plugged/restricted fuel injector can reduce fuel efficiency by as much as 30 percent.
Have the chassis lubricated frequently. This step extends the life of the moving components of the vehicle's suspension system.
Check battery cables and posts for corrosion and clean them as needed. The battery fluid also should be checked and filled if it is low, unless it is a maintenance-free battery.
Have the lighting system checked frequently, including headlights, turn signals, and brake and taillights.
Check windshield washer blades for cracks, tears and windshield contact. Replace them at least once a year, or sooner if streaking begins.
Inspect engine belts regularly. Worn belts will affect the engine performance. Look for cracks and missing sections or segments.
Have the air filtration system checked frequently. The air filter should be checked every other oil change for clogging or damage. This system ensures that the vehicle is performing at its peak condition.
Service Interval Schedule:

Vehicle System or Component

Check Monthly

Check Every 3,000 Miles

















































What our clients are saying about us
We have established longterm and stable partnerships with various clients thanks to our excellence in solving their automotive needs!
More Reviews

Absolutely love Shelley's and I am a repeat and ongoing customer! I'm always looking for a place that I feel comfortable going to on my own without my fiance as I'm not mechanically savvy and this is it! Christy, who is at the front desk and keeps this place running is so warm and welcoming. She does her job well and is always moving whether it is answering phone calls or managing all the different keys and customers. She remembered me after my first visit! The mechanics here are trustworthy and do their job well. I've gotten two reasonably priced oil changes and also brought my car in for a tire repair and I'm very happy with all my interactions at Shelley's. I would suggest making an appointment or dropping off your car because this place IS BUSY. If you are doing a walk in expect to wait a couple of hours, but otherwise I will definitely be back for all my car related concerns!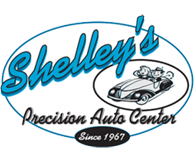 Christy, who runs the front of the shop, is the best. I needed to get my car smog checked. The problem was I had a check engine light. Shelley's did a diagnosis and was able to clear the check engine, but the codes would still not pass. We were able to assess the problem that could have been $$$ in parts and labor for a catalytic converter, but there was an alternative to flush out the codes for an indefinite amount of miles. I checked once a week before work at Shelley's to see if it my car cleared. Every time, denied. Then my check engine light went on again! Hope was lost. I gave up going to Shelley's for months. Until today. When I got in my car and was heading to work the check engine light was off. I immediately went to Shelley's. The codes were clean! We ran the smog and passed. I am legit on the road again. Thanks for your persistence with me Shelley's! I'll be a lifetime customer.