Some states require regular safety inspections and/or emissions inspections on cars and trucks. At Shelley's Precision Auto Center, we are well-equipped and trained to perform these inspections. Our technicians can also perform multi-point inspections on your vehicles as needed.
These are some of the inspection services we offer.
Emissions and Smog Testing
Read More About Our Emissions and Smog Testing
Exhaust Questions and Answers
Q: What is a rough idle?
A: A rough idle describes a vehicle's engine with spark plugs that are not firing correctly when the vehicle is in park, with no gas applied. Most vehicles idle between 600 and 1,200 RPM and should hold their idle speed consistently.
Q: Why is smoke coming out of my tailpipe?
A: The most common reason for thick smoke coming out of your car's exhaust pipe is the fuel to air ratio in your engine is too rich. This means that the fuel injectors are either adding too much fuel or that the intake valves aren't letting enough air in. This is caused by a cracked or leaking fuel injector, a failing O2 sensor, or air filter that needs replacing.
Catalytic Converter Questions and Answers
Q: Can I drive with the catalytic converter light on?
A: A bad catalytic converter can increase your car's exhaust emissions, but it does not prevent you from driving. At Shelley's Precision Auto Center we know this is true. A clogged catalytic converter will eventually affect the performance of your vehicle in Thousand Oaks, Simi Valley, Hidden Valley and Camarillo. Exhaust gases will not escape easily and create an increase in exhaust gas pressure. The buildup in pressure can lead to high-cost repair bills in the future.
Q: What can cause a catalytic converter light to come on?
A: A catalytic converter helps reduce harmful engine emissions from entering the air by breaking down the harmful byproduct of internal combustion into less-harmful compounds. If your catalytic converter isn't working properly the check engine light will come on. The most common causes for a catalytic convert warning light to display are a clogged, cracked or melted converter. Sometimes the problem isn't the catalytic converter at all but an exhaust leak letting gases out of the system before it reaches the converter.
To learn more about our Inspection and Emission services, call us at 805-497-2818 or request a quote by clicking below:
Request Quote
What our clients are saying about us
We have established longterm and stable partnerships with various clients thanks to our excellence in solving their automotive needs!
More Reviews

Absolutely love Shelley's and I am a repeat and ongoing customer! I'm always looking for a place that I feel comfortable going to on my own without my fiance as I'm not mechanically savvy and this is it! Christy, who is at the front desk and keeps this place running is so warm and welcoming. She does her job well and is always moving whether it is answering phone calls or managing all the different keys and customers. She remembered me after my first visit! The mechanics here are trustworthy and do their job well. I've gotten two reasonably priced oil changes and also brought my car in for a tire repair and I'm very happy with all my interactions at Shelley's. I would suggest making an appointment or dropping off your car because this place IS BUSY. If you are doing a walk in expect to wait a couple of hours, but otherwise I will definitely be back for all my car related concerns!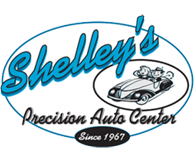 Christy, who runs the front of the shop, is the best. I needed to get my car smog checked. The problem was I had a check engine light. Shelley's did a diagnosis and was able to clear the check engine, but the codes would still not pass. We were able to assess the problem that could have been $$$ in parts and labor for a catalytic converter, but there was an alternative to flush out the codes for an indefinite amount of miles. I checked once a week before work at Shelley's to see if it my car cleared. Every time, denied. Then my check engine light went on again! Hope was lost. I gave up going to Shelley's for months. Until today. When I got in my car and was heading to work the check engine light was off. I immediately went to Shelley's. The codes were clean! We ran the smog and passed. I am legit on the road again. Thanks for your persistence with me Shelley's! I'll be a lifetime customer.